Books of Exhibitions and Selected Work



We have compiled several books of Mylo's work and his
exhibitions in an effort to preserve them
for the Estate. Since
these books are ordered in small numbers, the price is dependent upon the
number of pages reproduced,
the size of the book requested, and the selection as to hard or soft cover (not all have soft cover availability.)
mylo quam the artist and his work
Hardcover Book: 108 pages, measures 12" by 12"
mylo quam | By e. singer | Category: Arts & Photography | Blurb
A Compilation of the background of Mylo Quam and overview of the range of style and subject matter of the artist over the 28 years his work as exhibited in NYC, Woodstock, Port au Prince, Haiti, San Francisco, Key West, and Venice, Italy, among the many exhibitions in the United States and abroad.
There are 61 of Quam paintings and 18 inks/sketches across the pages and commentary regarding the influences on the artist, sources of inspiration for many of his themes from the original journals of the artist maintained to catalogue his work and from his personal library.
About the Author
Mylo Quam - The Official Site

mylo100
The Estate of Mylo Quam
See Book Preview on left [click on the small four arrows next to shopping cart for a full page preview]
Small Square Book
mylo quam the artist and his work
Soft cover or Hardcover Book: 114 pages, measures 7" x 7"
mylo quam|By e. singer |Category: Arts & Photography|Blurb

This is a smaller version of the 12 x 12 Coffee Table Book size above and can be purchased in a 7" x 7"
soft cover or 7 x 7 hardcover.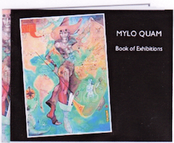 Book of Quam Exhibitions

Hard Cover (measures 8.75 x 11.25)
31 pps
Soft Cover

(measures 6.75 x 8.75) 31 pps
Books of Quam Paintings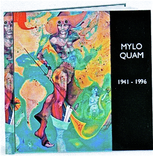 Book of Selected Quam Paintings

Hard Cover (

measures

12 x 12 ) 31 pps.
Soft Cover
(measures 7.75 x 7.75) 33 pps.
please contact us below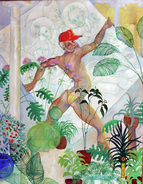 ---
---
---
All Rights Reserved to the paintings, images and contents contained in this website (not to be used or copied without permission)